Total number of applicants currently on bridging visa is on all time high, Department of Home Affairs (DHA) reports.  
Bridging visas are granted to people whose applications are currently pending and being processed.   
According to the DHA, 195,000 people are on bridging visa by the end of Q1. That is a 40,000 jump from last year and almost 90,000 four years ago.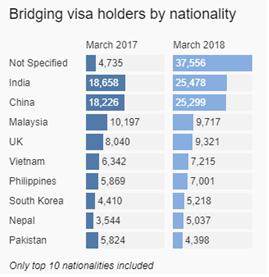 Bridging visa surge drove the increase in number of current temporary visa holders to 2.2 million, another all-time high.
Former national president of the Migration Institute of Australia, Jonathan Granger, describes the process as 'chaotic'.
Lack of resources and program changes are the reasons on the growing visa refusals that end up at Administrative Appeals Tribunal (AAT). For the past six months, average turnaround time for temporary work visas at AAT is 381 days.
However, Wayne Parcell, an immigration partner at EY, remarked that it is difficult to determine the main factor on the increased number of bridging visas without further relevant information.
Mr Parcell shared that several of his clients who are already holding bridging visas are required to request another bridging visa if they need to leave the country for travel, business trips or family visits. This policy results to additional workload to DHA.
"A reduction in the number of bridging visas is possible if a multiple entry travel facility was granted to all applicants who are legitimately awaiting a visa decision in Australia," he said.
"This would decrease administrative effort for the Department of Home Affairs and improve the service experience for clients."
Reference: http://www.abc.net.au/news/2018-05-22/bridging-visa-surge-overwhelms-permanent-migration-cuts/9785946
(Gothe-Snape, 2018)