Migration Update : 01 Apr 2022
1. PR Pathway Announced for certain 457/482 STSOL Visa Holders
Certain temporary skilled visa holders may be eligible to become permanent residents in Australia regarding the Minister of Immigration announced this week. This changed will benefits skilled workers who remained in Australia during the pandemic.
The new Legislative instrument provides a pathway to employer sponsored permanent residency for an additional cohort of subclass 457 visa (Temporary Work Skilled) or 482 visa (Temporary Skill Shortage) holders through the Temporary Residence Transition stream of employer nominated/sponsored schemes.
What is STSOL ?
STSOL stands for Short Term Skilled Occupational Demand list which is a list of high demand occupations in Australia. Anyone who consider to apply for Australia sponsored Permanent Residency (subclass 190), the occupation have to be under STSOL list and you must have an invitation/sponsorship from the state government.
2. No PCR test required from 18th April to enter Australia
25 March 2022 The Hon Greg Hunt Mp Minister for Health and Aged Care, announced that PCR test will no longer require to entry Australia from 18th April 2022 following the advice from the Biosecurity Emergency Determination relating to COVID-19.
However, International travellers into and out of Australia will still be required to provide proof of double vaccination against COVID-19 and still be required to wear a mask while on international flights.
3. From 5 March 2022 to 31 December 2022, eligible current and former Working Holiday Makers (WHM) in Australia can apply for a free WHM visa.
Good news for Working Holiday Makers!
From 5 March to 31 December 2022, eligible current and former Working Holiday Visa holders in Australia can apply for a free Working Holiday Visa application. This announcement allows Working Holiday Makers who experienced disruptions to domestic travel and employment opportunities during COVID-19 to stay longer in Australia.
Who is eligible to apply nil VAC WHM applications?
The applicant must stay in Australia to apply nil VAC WHM visa.
You may apply if you held a 'COVID-19 affected WHM visa'.
Applicants who hold or have held another WHM (subclass 417 or 462) visa after the COVID-10 affected WHM visa held on or before 20 March 2020 are still eligible to apply for a nil VAC WHM visa.
4. State Nomination Allocations adjusted for Financial Year 2021-22
Queensland, South Australia and Western Australia quota adjusted for Financial Year 2021-2022.
Queensland received additional 180 quotas for 190 Visa, reduced 300 quotas for 491 Visa.
Western Australia received additional 1000 quotas for 190 Visa.
South Australia received additional 730 quotas for 491 Visa.
State Nomination Quota Adjusted for Financial Year 2021-22.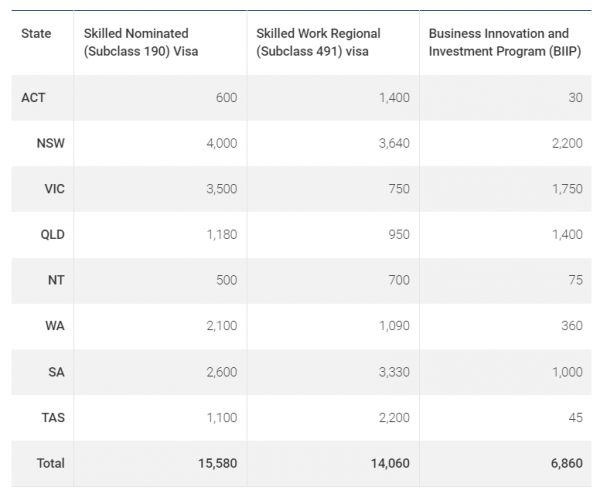 5. Federal Budget 2022-23 Announced
Skill stream visa will account for 70% of the reinstate Migration Program Numbers in 2022-23, with a total of 109,900 places. This represents an increase of approximately 30,000 places over the 2021-22 program.

We will keep update the relevant information. 
6. SOL Edu and Migration Online Seminar
Tin, our registered Migration Agent have release new YouTube live in the topic .This week topic is 'Prediction about the Migration trends in Financial Year 2022-23' 
More than 30,000 quotas will be added in Skilled Related Migration planning level in Financial Year 2022-2023.
Within the Skill stream the categories of Employer Sponsored (30,000 places), Skilled Independent (16,652 places) and State & Territory Nominated (20,000 places) have all been increased from 2021-22 planning levels.
The Partner and Child visa categories are estimated to deliver 40,500 and 3,000 visas respectively (delivery of Partner and Child visas will be subject to demand and visa processing requirements); while 6,000 places will be available for Parent visas; and 500 places for Other Family visas.
What does Migration Planning Level mean?
Will General Skilled Migration program become more flexible?
Will 189 Skilled Independent Visa resume back to normal level?
SOL Migration is now open for free initial counselling:
Book now via: https://www.solmigration.com/book-consultation/