Migration Update : 11 Mar 2022
1. Postcode for Australia Regional Area has been updated!
What is regional area ? Most of the location outside major cities (Sydney, Melbourne and Brisbane) can be identified as regional areas for migration purposes. The Australian government giving an extra areas to give more opportunities to people who planing to migrations.
The postcode updated is applies to following visas:
Regional visas:
Skilled Employer Sponsored Regional (Provisional) visa (subclass 494)
Skilled Regional (Provisional) visa (subclass 489)* – designated regional areas only apply to visa holders nominated by a State and Territory government agency whose visa was granted after 16 November 2019. See other specified regions for the invited pathway and subsequent entrant pathway.
Skilled visas:
Employer sponsored visas:
Regional Sponsored Migration Scheme visa (subclass 187) – the Temporary Residence Transition stream of the RSMS visa remains open to transitional 457 or Temporary Skill Shortage (subclass 482) workers.
Employer Nomination Scheme visa (subclass 186) – if the position is located in regional Australia, the nomination fee is waived.
Temporary Skill Shortage visa (subclass 482) – if using an occupation on the Regional Occupation List for this subclass.
Business investment visas
Business Innovation and Investment (Permanent) visa (subclass 888)
State/Territory Sponsored Business Owner visa (subclass 892)
2. VET courses without nominate an occupation, are going to be eligible for 485 Temporary Graduate Visa for 2 years from July 2022.
Previously, for Vocational students who want to apply Temporary Graduate Visa – Graduate Work Stream (subclass 485)/ Students must be closely related to your nominated occupation to be eligible to apply the Temporary Graduate Visa.
However, this year, the Australia government has announced the new policy which vocational courses without nominate an occupation will be eligible to apply 485 Temporary Graduate Visa for 2 years. The policy will start from July 2022
3. From 5 March 2022 to 31 December 2022, eligible current and former WHMs in Australia can apply for a free WHM visa.
Further flexibility for Working and Holiday makers. From 5 March 2022 to 31 December 2022, Working and Holiday Visa Makers in Australia can apply for a visa without VAC. This allows WHMs who experienced disruptions to domestic travel and employment opportunities during COVID-19 to stay longer in Australia. It can also be an opportunity to meet the specified work requirements for a subsequent WHM visa.
3. SOL Edu and Migration Online Seminar Next week
To anyone who are planning to apply QLD State Nomination 190 visa, you shouldn't ignore this
LIVE!
Wed 16 March at 5 – 6PM (BNE time) , Tin, our registered migration agent will take you through all the process of QLD 190 visa with tricks and tips to help you be a future candidates
LIVE:
https://youtu.be/_qru7CWIj_4
Set the reminder, make sure that you get the notification
Special Guest! Our Marketing Specialist candidate who receives QLD 190 State Nomination Approval in this Financial Year will share his experiences and how he prepares before submitting the application.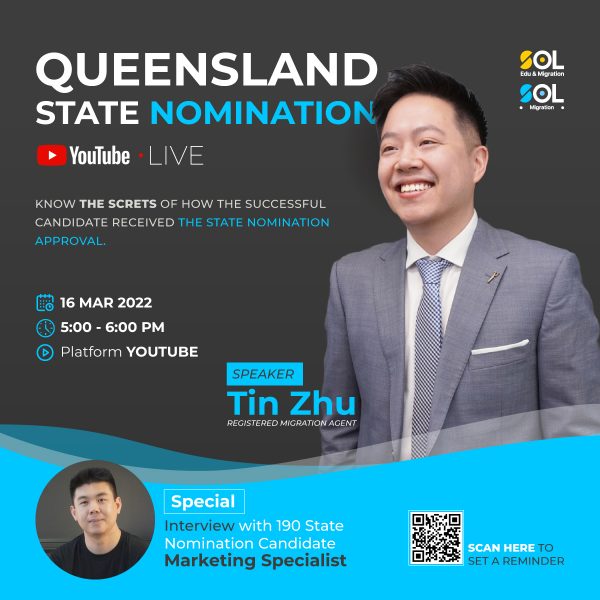 SOL Migration is now open for free initial counselling:
Book now via: https://www.solmigration.com/book-consultation/