Migration Update : 21 Jan 2022
1. Temporary Graduate (subclass 485) visa holders can re-enter Australia and apply for a further stay
The Government will make changes to allow entry of current and former Temporary Graduate (subclass 485) visa holders from 18 February 2022, to allow them to re-enter Australia and apply for a further stay. Visas will be extended for graduates who were outside of Australia at any time between 1 February 2020 and 14 December 2021, while they held a valid Temporary Graduate visa.
2. QLD 190 Invitation for Marketing Specialist 85 points
Migration Queensland continues sending invitation. SOLEdu & Migration client have received a Skilled Nominated Visa (subclass 190) invitation. The occupation is Marketing Specialist with 85 points.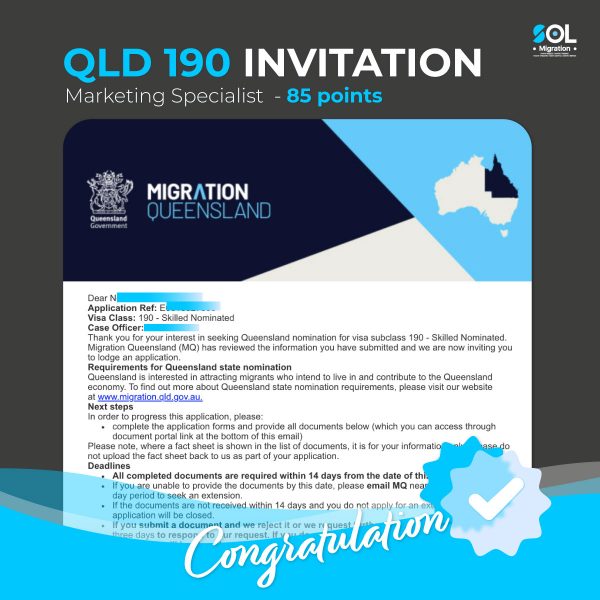 3. International students and working holiday makers will have visa application fee rebated.
International students and working holiday makers who arrive in Australia from today will have their visa application fees rebated to encourage more to enter the country. International students will have the fees waived for 8 weeks from Wednesday, while the changes will be in place for 12 weeks for working holiday makers.
4. Fully vaccinated international travellers can enter Queensland without restrictions.
The Queensland Government announced today that international travellers who is fully vaccinated with a TGA-approved vaccines can enter Queensland without restrictions from 22 January, 2022. A rapid antigen test required within the first 24 hours.
5. A 40-hour per fortnight working capacity would be removed for foreign students.
Department of Home Affairs has announced the temporary relaxation of working hours for student visa holders. Students must continue to balance study and work and must maintain their course enrolment, course attendance and course progress. Otherwise, it might in breach of student visa conditions.
However, this arrangement will be reviews by the Government in April 2022.
SOL Migration is now open for free initial counselling:
Book now via: https://www.solmigration.com/book-consultation/
Sources:
https://immi.homeaffairs.gov.au/news-media/archive/article?itemId=812
https://immi.homeaffairs.gov.au/visas/getting-a-visa/visa-listing/student-500/temporary-relaxation-of-working-hours-for-student-visa-holders