Migration Update : 14 Jan 2022
1. Migration Queensland resumed sending invitation after Christmas and New Year Holiday.
After long-holiday in Australia. finally, the Migration Queensland has started to send the invitation. SOL Migration received four 190 Invitations this week. Here are 4 occupations that got the invitation.
Secondary Teacher
Analyst Programmer 90 points
Occupational Therapist 85 points
Motor Mechanic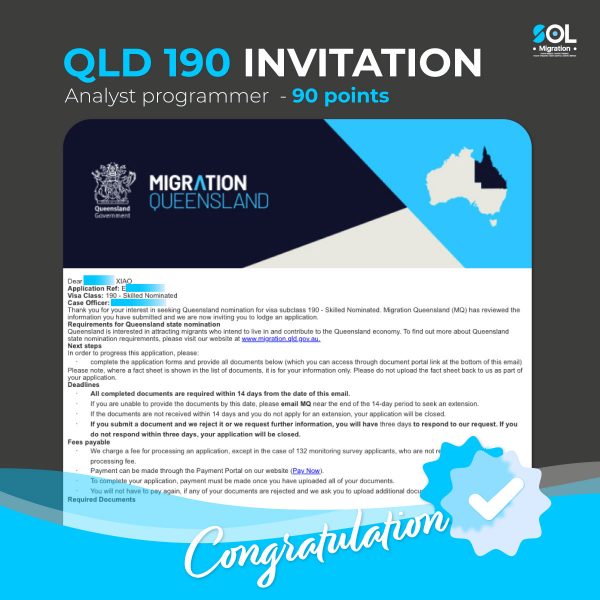 2. NSW Skilled Regional Visa 491 January submission window is open now
New South Wales (NSW) has opened January submissions for the Skilled Work Regional Visa (Subclass 491). The submission will be closed on 31st January 2022. The next submission window will be in March 2022.
Skilled Work Regional Visa has 5 years duration which allowed you to work and live in Regional Area in Australia. If you can satisfy the residence and income requirement. You will be able to apply for a Permanent Resident Visa after holding the 491 visa for 3 years. Read more
3. Working limitation for International Student Visa Holders in Australia will be lifted.
Previously, International Students allowed to work 40 hours/fortnight.  During the COVID-19 pandemic, the Department of Home Affairs has shifted the regulation take a flexible approach to student visa holders. The relaxation of working hour for international students who is working in the PMSOL list such as, Chef, Electrical engineering and Registered Nurse. will be able to work full time.
13 January 2022, foreign students all occupations will be allowed to increase working hours and be able to work full-time to help moderate worker shortages. Details will be announced by the Federal Government soon.
4. Weekly SOL Migration Show Recommendation:
Tin, Registered Migration agent, live streaming on SOLEdu & Migration YouTube Channel every fortnight. This week topic was Small Business Owner PR Pathway Watch Now
Lastly, SOL Migration is now open for free initial counselling:
Book now via: https://www.solmigration.com/book-consultation/