Migration Update : 29 Apr 2022
Content Summary
1. VIC State Nomination -ROI submissions close Friday 29 April
From 5pm, Friday 29 April, Victorian Migration will no longer accept Registration of Interest (ROI) submissions. After that, the Victoria Migration will continue to assess ROIs that were submitted. ROIs will continue to be selected and invited to apply for Victorian visa nomination.
To be selected for Victorian skilled visa nomination, the candidate need to submit a Registration of Interest (ROI). You need to provide an information to helps Victoria Migration decide whether you will be selected to apply for Victorian visa nomination.
2. TAS State Nomination New Applications Temporarily Restricted
There are a limited places remaining for the Tasmania Skilled Migration State Nomination for 2021-22 program. New applications are temporary restricted to invited candidates only. New applicants created and lodged after 5:00pm on 14 April 2022 will only be eligible for consideration of applicants has been invited to apply by Migration Tasmania.
More information about Migration Tasmania
3. SA Sate Nomination – Still processing new applications as of today
South Australia remain the place that give a migration opportunity. The state nomination can assist you to qualify for a skilled migration visa, providing additional points towards your subclass 190 or 491 application.
The state nomination requirements depending on the visa pathway your are applying for and specific circumstances.
Processing Time
Subclass 190 nomination: 8 – 12 weeks
Subclass 491 nomination: 12 – 16 weeks
There are no processing times available for ROI applications.
More information about SA state nomination
4. NEW Townsville DAMA will be accessible from July 2022
Townsville will be more benefit for skill workers following the signing of the landmark Designated Area Migration Agreement (DAMA). Townsville DAMA cover 195 occupations across a broad range of sectors, including manufacturing, health care and social assistance, transport, and professional, scientific and technical services. Source
What is DAMA?
DAMA stands for a designed area migration agreement (DAMA) is a formal agreement between Australia Government and a regional, state or territory authority. DAMA gives access to more overseas workers. DAMA labour agreements. They:
are generally in effect for five years, and
use the subclass 482 Temporary Skills Shortage (TSS), subclass 494 Skilled Employer Sponsored Regional (Provisional), and subclass 186 Employer Nominated Scheme (ENS) visa programs.
5. Delayed Medical check – Please upload at least booking receipt on immi account to avoid visa refusal
When you go to your appointment, bring:
a valid passport
your HAP ID including your 'Health Examination List' letter or the Referral Letter provided by the Department
More Information about Medical check
6. 189 VISA invitation is back!! SOL Migration received invitations for 189 Skilled Independent Visa
SOL Edu & Migration have got 2 news 189 invitations
189 invitation received 95 points, Early Childhood Teacher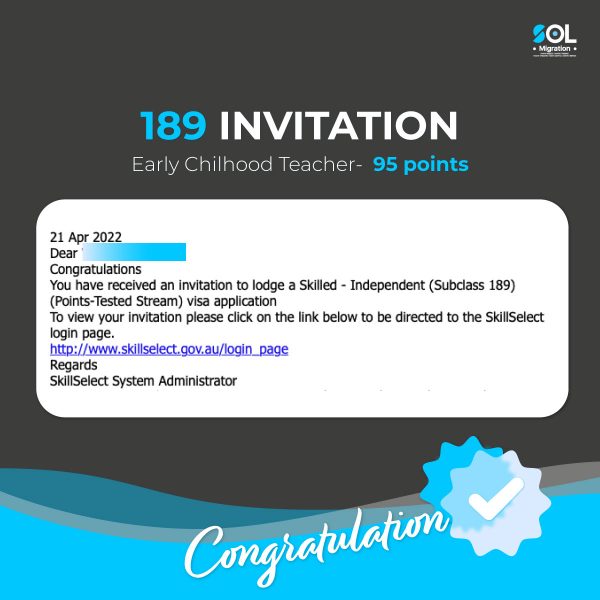 189 invitation received 90 points, Physiotherapist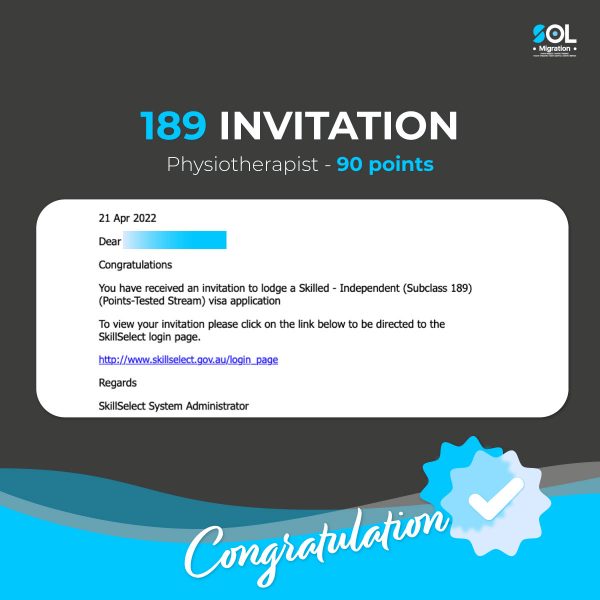 SOL Migration is now open for free initial counselling:
Book now via: https://www.solmigration.com/book-consultation/