Migration Update : 11 Feb 2022
1. Australia will fully reopen border to fully vaccinated visa holders from 21st Feb 2022
The Prime Minister has announced this week that Australia's borders will be fully reopened on 21 February 2022 to all double vaccinated travellers, business people and visitors. Those who are not vaccinated will be required to apply for a travel entry exemption and undertake quarantine if granted permission to enter the country.
The full media release is available here.
2. 41 Occupations selected for 189 Skilled Independent Visa in Jan 2022 Invitation Round
Forty one occupations were invited to apply for visas with the majority being health professionals.
The latest invitations bring the total number of Subclass 189 visas invited in this program year to 650 and Subclass 491 Family Sponsored visas to 900.
189 Visa is a Skilled independent visa which for invited workers with skills Australia need, to live and work permanently in Australia.
Further details on the round are available on the Department's website.
3. QLD State remains the highest percentage of unused quotas for 190/491 Visa

The table above is a summary of the Nominations by State and Territory Governments – 2021 – 2022 total activity by Jan 2022. As you can see the table, QLD have a high spot left for remaining quota while NT and WA have already over the quota. Therefore, there are a lot of opportunity for applying 190/491 visa in Queensland.
4. SOL Migration continues to receive QLD 190 Invitation
Our migration agents received Chef invitations this week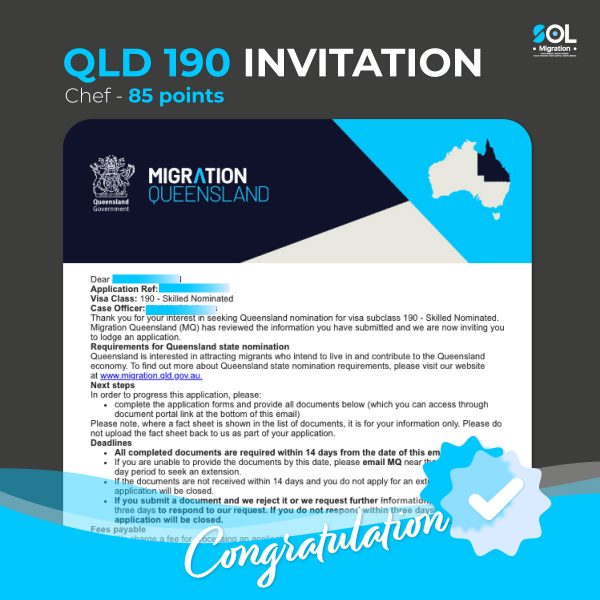 5. Weekly SOL Migration Show Recommendation:
Tin, Registered migration agent, live streaming on SOLEdu & Migration Youtube Channel. This week topic is Temporary Skill Shortage Visa (TSS) subclass 482.
The TSS Visa allows employers to address labour shortages by bringing in genuinely skilled workers where they cannot hire an appropriately skilled Australian. It is a temporary visa up to 4 years.
.
• What is TSS Visa?
• Overview about TSS Visa.
• TSS Visa Application Process
• Who can be my Sponsor for the TSS Visa?
• Can I apply for TSS Visa?
SOL Migration is now open for free initial counselling:
Book now via: https://www.solmigration.com/book-consultation/